Sondra Radvanovsky and Craig Colclough in the lyrical opera production of "Macbeth". (Photo by Ken Howard)

The Lyric Opera production of Giuseppe Verdi's "Macbeth" – which marks both the ongoing reopening of the company's renovated 3,200-seat theater during the pandemic era and the official start of Enrique Mazzola's tenure as as the company's music director – is not a standard witch's brew. You feel it as soon as you walk into the hall and see a curtain adorned with the charcoal black facade of a church that stands in the middle of a cemetery and is topped with a large cross. The place looks as much like Salem, Massachusetts during the witch-hunting years, as it does Scotland.
And as the opening notes are played by Lyric's impeccable orchestra (with Mazzola extremely attentive to the singers), there is the arrival of a choir of chillingly determined parishioners in heavy black costumes, each of them. women holding what appears to be a Bible. . In fact, in this artful production from director Sir David Vicar, the Three Prophetic Witches in Shakespeare's play appear to be supported by this great congregation of women fervently engaged in dark prophecies of the evil that men and women will promulgate.
And Verdi's music (with lyrics using the composer's 1865 'Parisian version' of his original 1847 score) vividly amplifies these impulses, along with the wild ambitions and deadly consequences of an unhappy wife (the brilliant soprano Sondra Radvanovsky, first playing Lady Macbeth in what is a powerful debut that culminates in the opera's mesmerizing mad scene), then the inevitable destruction of her husband (bass-baritone Craig Colclough makes his lyrical debut , as Macbeth).
Christian Van Horn and Craig Colclough in the Lyric Opera production of "Macbeth". (Photo by Ken Howard)

A successful general but a weak man who in the end can be easily manipulated by his deeply dissatisfied and ambitious wife, Macbeth is both stunned and tempted by the prophecies of the witches that he will become the King of Scotland. But it was Lady Macbeth who would lead him to take the murderous measures necessary to achieve this unexpected rise to supreme power, starting with the bloody murders of the reigning King Duncan, as well as his companion in arms, Banquo (the bass-baritone elegantly Commander Christian Van Horn), which will continue to haunt him as the prophecies become too true.
Throughout, the couple's childless marriage serves as a crucial undercurrent to the story, though not explicitly stated. Macduff's (the good tenor Matthew Vickers) ultimate ascent as King (and Savior) of Scotland puts a further twist on the idea that a son, no matter how he might have entered the world, will be there. legitimate heir to the throne.
Of course, it was Shakespeare who provided this crucial psychological twist in the lineage. And it is Verdi whose score brilliantly illuminates each twist and each character. Without a doubt, Verdi is the Shakespeare of opera.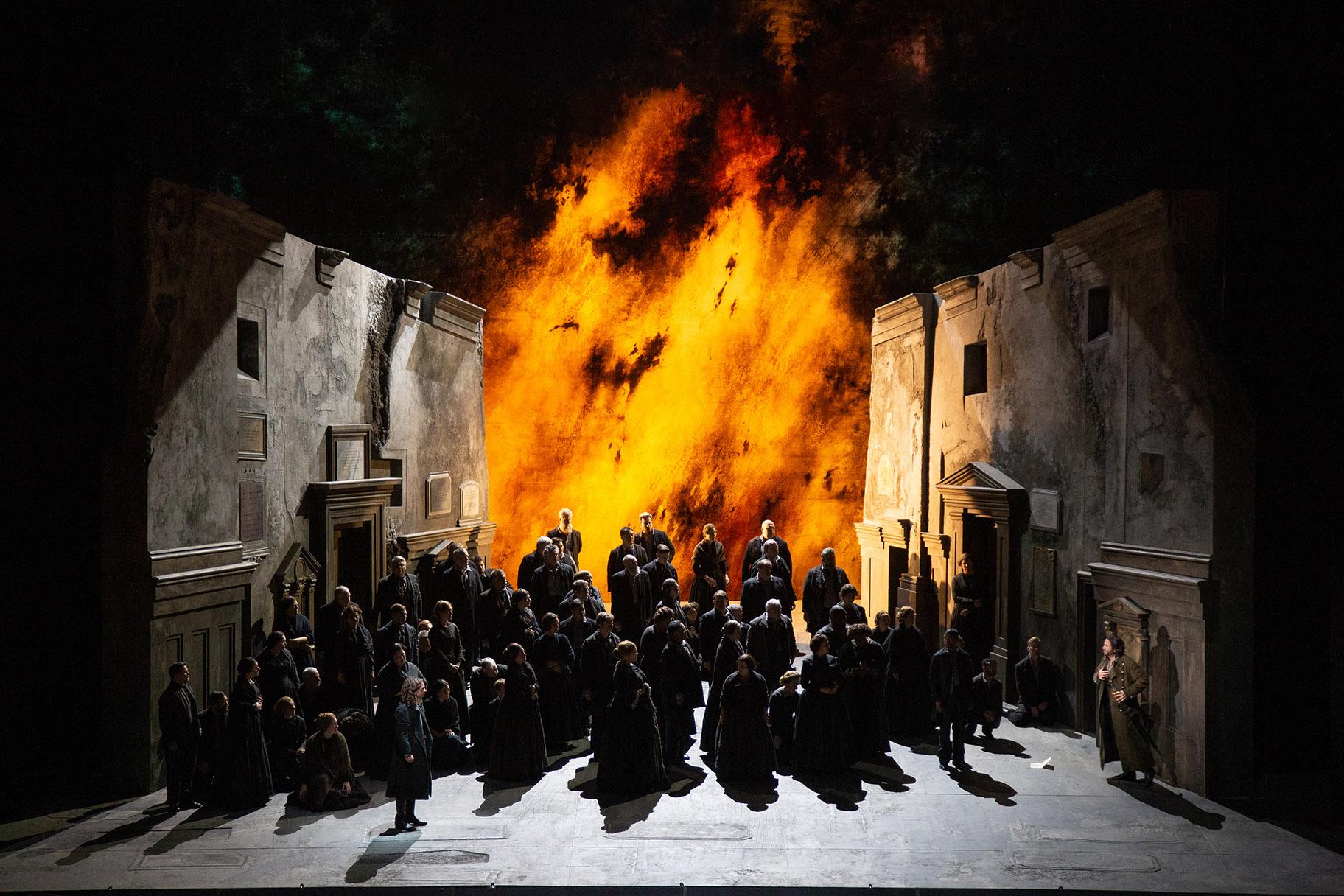 The Chicago Lyric Opera Choir in "Macbeth". (Photo by Andrew Cioffi)

To the dark and macabre magic of this production is added an exceptional backing cast, set design by John Macfarlane and lighting by Douglas Finn, as well as black and brown costumes by Moritz Junge.
Conductor Michael Black oversees the outstanding choir of outstanding singers / actors. Choreographer Andrew George keeps them, along with a small contingent of gifted children (as well as a macabre puppet) in great shape. And Nick Sandys imagined fierce fights with spears in this highly theatrical evocation of personal and political destruction.
Performances of "Macbeth" continue until October 9. Visit lyricopera.org for more information.
Follow Hedy Weiss on Twitter: @HedyWeissCritic
---